Toronto family lawyer Brian Ludmer is part of the team of experts behind a new book offering tips, resources and support to people engaged in high-conflict custody battles.
The recently published text, titled The High-Conflict Custody Battle: Protect Yourself and Your Kids from a Toxic Divorce, False Accusations, and Parental Alienation, promises to serve as a guide to parents navigating a difficult custody proceeding.
"If you are dealing with an overtly hostile, inflammatory, deceitful, or manipulative ex-spouse, you will learn how to find and work with an attorney and prepare for a custody evaluation," a description of the text reads.
"The book also provides helpful tips you can use to defend yourself against false accusations, and gives a realistic portrayal of what to expect during a legal fight. Going through a divorce is hard, but going through a custody battle can feel like war. Don't go in unprepared."
Ludmer, of LudmerLaw, co-wrote the book with two prominent international experts in the field of high conflict divorce, researcher and author Amy J. L. Baker and psychologist J. Michael Bone.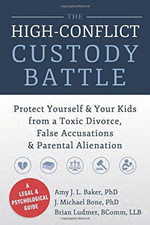 "The goal of our collaboration was to provide , in one book, a clinical, experiential, practical and legal  treatment of the difficulties faced by children  and parents in high-conflict custody battles," says Ludmer.
The primary audience for the book is parents and family members engaged in such disputes, says Ludmer, noting it will also be of great use to therapists, forensic experts and lawyers working with these families.
"Parents buying this book will come in armed with this knowledge, so the family law bar should be aware of the advice in this book," he says.
The goal of The High-Conflict Custody Battle is to provide accessible advice for how to assist families in transition who are facing these difficult scenarios, adds Ludmer.
To learn more, or to purchase the book, click here.
To Read More Brian Ludmer Posts Click Here
AdvocatePlus